Laura Camille Tuley, LPC
I am not what happened to me,
I am what I choose to become.
-C. G. Jung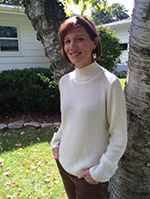 The first ten years of my training as a psychotherapist were spent in New Orleans, LA where I worked, in part, to provide support and healing to members of a community ravaged by the traumas of Hurricane Katrina and the BP Oil Spill. This experience equipped me to serve people in the aftermath of crisis; those suffering the symptoms of economic and social upheaval, post-traumatic stress disorder and the legacy of mental and physical illness that often develops within the context of dramatic and disruptive life changes.
I collaborate with my clients to manage and find relief from stress, anxiety, depression and anger, relate to and treat the effects of trauma and grief, address creatively career decisions, relationship problems and artistic blocks, and engender personal growth and resilience. I work with adolescents, adults and couples.
My theoretical approach is informed by existentialist philosophy and Jungian Psychology. I view every individual as a unique composite of his or her culture, experience and potential and I consider the psychological road blocks to living a full life not merely as personal symptoms, but as symptoms of the world in which we live. From this perspective, therapy and healing involve reflection on our relationship to the physical, cultural, and psychological environments we inhabit, a conscious realization of our strengths and desires and the creative re-imagination of our lives. As a Jungian and psychoanalytically trained therapist, I work with dreams, active imagination, writing and visual art, and sand tray, as well as traditional talk therapy.
You may leave me a message at (608) 255-8838, #1 or email laura@harmonia-madison.com. Please include your name and phone number in any correspondence.